Running Shoes Store | Doral
From casual gym-goers to elite level competitors, athletes of all levels receive customized service at Runner's Co. in Doral, Florida. 
Keep checking our page for our newest high-quality products and the latest tips and tricks. We hope you enjoy your visit!
Who we are
Runner's Co. and its staff are dedicated to providing a personalized service to all athletes, from the casual gym member to the elite athlete.
We will help you get the right shoes and accessories needed to run, we also analyze your walk and movement step, by videotaping on our store treadmill, to measure what level of support and movement control you need.
Visit us in-store or call us now and help us help you achieve your running goals!
If the shoe fits, wear it!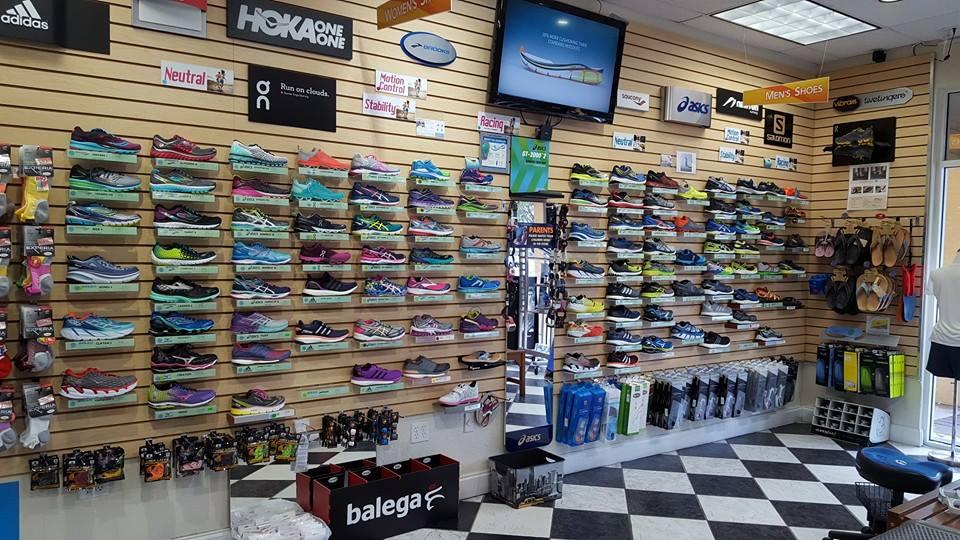 Let us find you the right shoe!
Our Fitting Process
The staff at Runner's Co. will  guide  you in determining your optimal, high performance running shoe, one that balances comfort and speed,  without compromising  foot and ankle support.
More than your average shoe store, we offer a thorough fitting process for every customer. This way, we can establish the level of support and motion control you need to reduce your chance of injury and run faster. Here's what you can expect:
Video Analysis: We'll get you to hop on the treadmill. Through video footage, we'll analyze your gait and stride and gain important insight on your foot and ankle movements and tendencies.
Scanner foot: designed to capture complete foot data about a customer's unique arch type and pressure points. The Pressure Meter allows users to pinpoint pressure levels in a specific area.
Your feedback: You'll let us know how the shoe feels as you walk or run so we can refine the decision making process even more.
Time and again, our customers leave our store comfortable, thrilled and motivated to hit the pavement with their brand new shoes. Visit Runner's Co. or call us today to learn more!
You'll feel the difference in your sole!
We are more than just a shoe store!
Our specialist technology helps us find the shoe with the best support and comfort.
We sell shoes recommended by Experts
All members of staff are trained and are runners who have first-hand experience on what works.
We actively participate in Community Life: Organizers of the Doral 5k, and running sessions with the Southern Command and local church.
Stay two feet ahead of the pack!
At Runner's Co., we believe that we all have a hidden athlete within. We are committed to offering our customers the best and latest products and services to help them achieve their fitness goals. Get in touch with our staff to learn more!
RUNNERS AND CO., LLC is committed to ensuring that the collection and processing of data carried out by our
runnersco.com
site complies with the General Data Protection Regulations (GDPR) and the Data Protection Act. To know and exercise your rights, particularly concerning the withdrawal of consent to the use of collected data, please consult our
privacy policy